Our mental health can determine our overall wellness and the quality of our lives. Because of its impact on our overall health, taking care of it should always be integrated into our personal care routine.
As we help you find your preferred caregiver in Lafayette, Louisiana, we know that many seniors and persons with health conditions are at a higher risk of deteriorating mental wellness. This risk often puts their health in further danger. What are some simple ways to preserve and even boost the mental home care services in mandeville, lousiwellness of your loved ones?
Make Use of Hobbies We all pick up hobbies throughout every stage of our lives. But deteriorating wellness often highlights their overall importance. Performing your hobbies is great for suppressing your stress. Doing them can be instrumental in preserving your mental wellness. You can work with a trusted home care provider for added assistance while enjoying your hobbies.
Consistent Social Interactions Your mental wellness can also thrive through consistent social interactions and companionship. Spending time with other people, especially the ones you love, can suppress feelings of stress and anxiety. Providing assisted living in Louisiana allows us to help clients get regular social interactions.
Staying Active Exercising can prompt the production of endorphins that make us feel good. When you stay active, your physical and mental wellness can thrive.
Restorative Sleep You cannot ignore a good night's sleep. It allows your body and mind to recharge properly, preserving your bodily functions and suppressing stress.
Here at BrightCare Homecare, we are more than happy to help your loved ones achieve stronger mental wellness. We offer a range of home care services in Mandeville, Louisiana, to preserve your quality of life. Call us for your inquiries!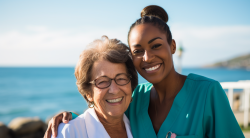 Latest posts by BrightCare Homecare
(see all)