As a certified provider of home care services in Mandeville, Louisiana, we enumerated some tips for creating a safer home for your loved one:
Plan for the unexpected.
Keep an up-to-date first aid kit available in case of injury or illness. Also, keep the emergency numbers of your police station, healthcare providers, and your senior loved one's caregiver in Lafayette, Louisiana, handy.
Install handrails.
Handrails are a lifesaver for seniors who have trouble walking or need mobility assistance. Install one on each side of the stairways. Please ensure they are at an appropriate height for your senior loved ones' comfort level.
Set bed heights appropriately.
A rule of thumb is that the height should be no higher than 18 inches or less from the floor. If they have a more elevated bed, adjust and put a mattress on the floor for your senior loved one, so they are at an appropriate height.
Ensure adequate lighting.
Ensure the lighting is bright enough to see steps, floors, walls, and doorways. Additionally, install nightlights at bedside tables or inside closets near where they put on their shoes before leaving the house at night.
Preparing as much as possible is crucial regardless of your senior loved one's health and safety needs. If you need a reliable provider of home care or assisted living in Louisiana, look no further than BrightCare Homecare.
Our personalized non-medical home care services assure you that your senior loved ones are in exceptional hands. Please get in touch with us today at 985-224-0404 or 337-279-5466 for an in-home assessment.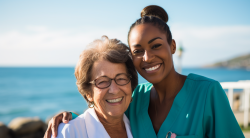 Latest posts by BrightCare Homecare
(see all)