They take a toll on health and quality of life. Dealing with the consequences of aging is the biggest challenge that seniors are going through. It is not enough for older adults to get mobility assistance. Other steps must be taken for the sake of their wellness and safety.
Having a care plan is beyond necessary for seniors. Through this, they can get companionship and assistance from healthcare professionals. Among the top choices in the senior population is home care and assisted living in Louisiana. Each of them has its respective pros and cons. However, it can't be argued that home care is a more convenient choice. It enables older adults to have stress-free lives at home.
Despite all the benefits that home care services in Mandeville, Louisiana, have to offer, some seniors are still reluctant about it. One of the main reasons behind it is they don't want to have limited privacy and independence. Although this is understandable, it is best to do what is conducive to their well-being.
Look out for these tell-tale signs that a senior needs home care services:
Constant hospital readmissions
Mobility problems
Poor nutrition and medication management
Struggle with activities of daily living
Cluttered environment
If you've noticed these in your senior loved ones, don't hesitate to refer them to us immediately!
Looking for a dependable caregiver in Lafayette, Louisiana?
You can count on BrightCare Homecare!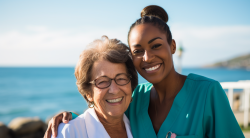 Latest posts by BrightCare Homecare
(see all)