For seniors, their exercise routines, sleep schedules, and diet plans may be disrupted. Staying healthy can be challenging during this time of the year. Hence, a provider of home care or assisted living in Louisiana can help seniors stay healthy.
Here, we share tips on how to keep seniors healthy during the holidays;
Follow dietary restrictions.
Some seniors follow special diets, such as those that are low in sodium. However, it can be difficult to adhere to a diet during busy periods. A caregiver in Lafayette, Louisiana, can help seniors follow dietary guidelines by keeping healthy options on hand, such as fresh-cut vegetables and fruits.
Drink in moderation.
Drinking excessively impairs function and for some older adults, drinking alcohol with certain medications can have adverse side effects. Seniors should drink in moderation or consider fun, alcohol-drinks to celebrate the holidays instead.
Get enough exercise.
The holidays are synonymous with cold weather and snow in some parts of the country. In addition to companionship, caregivers can help seniors stick to an exercise schedule by assisting with indoor exercises.
Stay hydrated.
Drinking enough water helps seniors stay healthy during the holidays. Not drinking enough water can cause hospitalization due to dehydration. Caregivers should keep a water bottle handy when running errands and keep water accessible at home.
BrightCare Homecare is a trusted provider of exceptional home care services in Mandeville, Louisiana. We offer several home care services that range from live-in care to mobility assistance. Reach out to us to discuss your loved one's needs.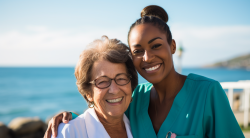 Latest posts by BrightCare Homecare
(see all)